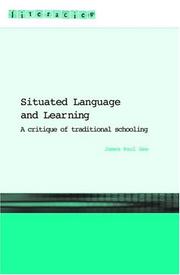 Situated Language and Learning: A Critique of Traditional Schooling,
by James Paul Gee
144 pages
"
Situated Language and Learning looks at the specialist academic varieties of language that are used in disciplines such as mathematics and the sciences. It argues that the language acquisition process needed to learn these forms of language is not given enough attention by schools, and that this places unfair demands on poor and minority students.
The book compares this with learning as a process outside the classroom, applying this idea to computer and video games, and exploring the particular processes of learning which take place as a child interacts with others and technology to learn and play. In doing so, Gee examines what video games can teach us about how to improve learning in schools and engages with current debates on subjects such as 'communities of practice' and 'digital literacies'."
Interesting at first, kind of ended dry. But then it is academic theory.